Arriving in Australia was often a traumatic experience for migrants. Most of the early European migrants could speak little or no English and they came to a country they knew little about. The landscape was strange, their feelings of isolation were intense and almost without exception they hated the food. Often Australia was not their first choice of destination but they decided to take a chance on emigrating there because it meant a quicker escape from years of turmoil in Europe.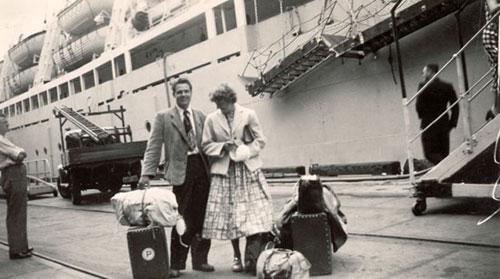 View Caption
Migrants who came to live in Orange usually did not go directly there. Unless they were met by relations or friends in Australia or already had a job lined up, those who disembarked in Melbourne were first sent by train to Bonegilla Migrant Reception and Training Centre near Wodonga in Victoria; those who arrived in Sydney were usually sent to the Kelso Reception Centre near Bathurst. The migrant camps, as they were called, offered accommodation and food, some English lessons and basic training for some types of employment. From there, men were usually quickly allocated work and sent wherever the job was. They were required to work within the industry allocated to them for two years. Women and children were moved to more permanent migrant holding centres in Cowra and Parkes if their breadwinners were working in and around Orange. The reason for separating women and children from their men was simply because there was a critical shortage of accommodation in Orange and there was nowhere for them to stay.
The migrant reception centres were a first taste of Australian life and many people had mixed feelings about them. They had been erected quickly, often at former army or airforce camps, in the late 1940s to accommodate the thousands of displaced people who started arriving in Australia. While they provided food and shelter, little or no consideration was given to people's need for privacy or their tastes where food was concerned. There was also a natural expectation among migrants that life in Australia was going to be better than where they came from, but for some, their first experience of the country was a profound disappointment. The Australian authorities felt they were doing their best under difficult circumstances and that migrants should be grateful for whatever they got.
There was, however, an air of optimism among the migrants as they started their new lives in Australia.