Gabriella Hegyes was born in 1954 in Szeged Hungary. At the age of 21 she escaped from communist Hungary with five friends to Italy across Yugoslavia. After spending 18 months in a refugee camp in Latina, a small town south of Rome, she migrated to Perth WA in 1977. She lived and worked in the Italian community there until 1980, when she moved to Sydney.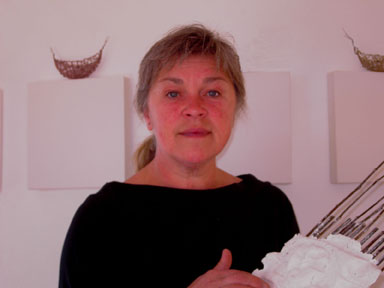 Living and working for over seven years in retail and hospitality industries in NSW provided an opportunity for her to mix with the wider English speaking community. Comprehending another language (English) gave her confidence to undertake study at tertiary level in 1987. She studied Fine Arts at Wollongong TAFE, the National Art School, University of Western Sydney and in 1996 she completed her post graduate diploma at Monash University Victoria. Gabriella also curated several exhibitions and developed and coordinated a number of public art projects/events in Wollongong, the Blue Mountains, Bathurst and Orange. She began teaching at the Western Institute of TAFE Orange campus in 1999 and continues to teach and to interact with the local community.
Gabriella Hegyes' video installation en route explores blind spots within our attempts to record cultural and social histories as they relate to migration and refugee experiences. Primarily based upon her own experiences as a refugee fleeing from communist Hungary in 1975 en route is a video installation that includes many secondhand folded shirts carefully pinned together on the wall and piled within the gallery. This grid of secondhand clothes forms a backdrop to a black and white video projection that portrays the decisionmaking process of someone sorting, folding, packing and unpacking the contents of a suitcase. Hegyes says of this work:
"As a refugee . each time I had to decide what to take with me, and what to leave behind. I spent 18 months in a refugee camp in Italy where I recall my first contact with charity organisations. Donations of clothes from around the world were distributed to us and I remember wondering whose possessions these objects were, and who has mine that I left behind. I still recall the peculiar smell of secondhand clothing, and every time I walk into an opportunity shop that same smell reminds me of the camp. Possessions like memories are sorted, carefully folded and placed in a suitcase or discarded in order to decipher their importance and future use . clothes are reminders of individuals - people once animated these lifeless objects."
While on one hand these abandoned clothes which Hegyes has collected are common objects, she sees each as holding a peculiar history associated to its absent and unknown owner. In this way these shirts become powerful signifiers of places, memories and encounters which can now only be imagined, and which connect many people to transitory geographic experiences. In en route the re-enactment of her own experience as a refugee - the folding, editing and abandoning of personal belongings, reanimates the found secondhand clothing that she has collected to map reminders of her own migrant history.