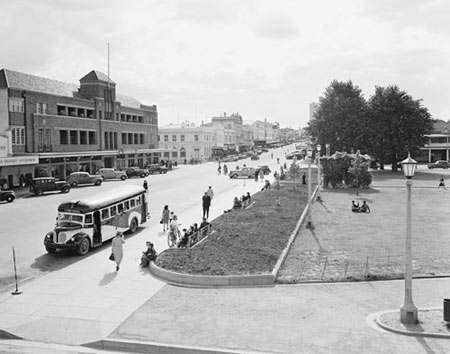 View Caption
When the first post World War ll migrants arrived in Orange they found themselves in a small country centre of nearly 14,000 people which had been declared a city only two years previously. In the year before the start of large-scale migration, the overwhelming majority of residents were of British or Irish extraction and stated their nationality as British, as was the custom then. There were just seven Chinese people and 13 Greeks, most of whom were men.
The district was mainly engaged in primary industry, above all the cultivation of fruit. Small orchards produced apples, pears, stone fruit, table grapes and cherries, which grew in abundance in the rich volcanic soil beneath Mount Canobolas. Most of the orchards were small operations which yielded enough income to support the owners' families plus a few employees and seasonal workers. In the Spring Hill and Millthorpe district potatoes and peas were cultivated. Farmers raised fat lambs and cattle and produced hay, chaff and grains. Orange served as a centre for this rich farming district, with rural supply stores, schools, banks and hospitals. Employers included Orange Mental Hospital, Orange Base Hospital, the Woollen Mills, the railways and the fledgling Emmco factory.
Only the centre of the city had sealed roads; dirt roads were common, even in residential streets. With such a small rate base, the local council's role was focused mainly on providing basic services such as water supply, kerbing and guttering and authorising building approvals. It played no role in developing the culture of the city. Most people lived a simple lifestyle at a time of postwar shortages.