Life was little better for Polish people, with thousands deported to Germany to boost the workforce. Wladislawa Idziak (now Wendy Bondaruk) spent the war years working on German farms.
"We went to work in a field digging and weeding sugarbeet. I wasn't strong and they didn't feed you much. Breakfast was a cup of tea or coffee and a piece of bread. Morning tea was a sandwich. From 7am to 7pm you were working. They brought lunch out to us in the fields; we didn't go home all day. I also worked stacking sheaves of wheat. During bad weather we worked in a shed grinding wheat. We worked six days a week."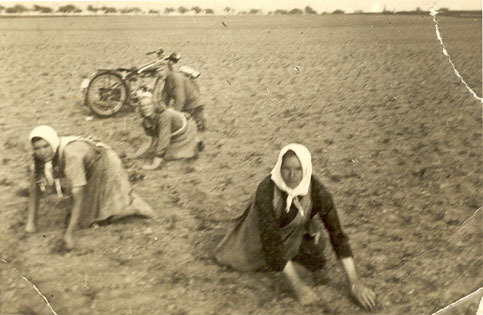 View Caption
Despite the hard work, the Polish deportees found the energy to amuse themselves on their one day off:
"On Sunday we did washing and we went dancing. My brother played the accordion and harmonica. Dances were held in houses, not public places. We were not allowed to go to the cinema. Sometimes a Polish priest would come for mass."